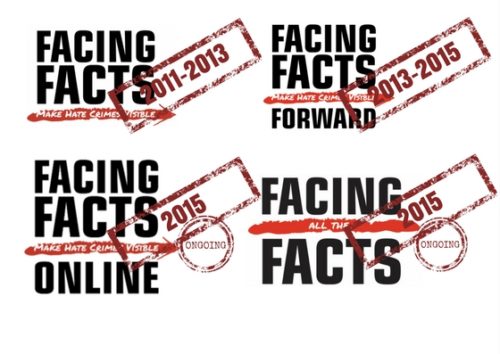 What is Facing Facts?
Facing Facts is an innovative programme aiming to tackle the issue of hate crime and hate speech in Europe. Since its inception in 2011, this initiative has been praised for its role in training on, and advocating for, hate crime monitoring systems that expose overlooked hate motivated acts such as racist, antisemitic, anti-muslim and homophobic hate crimes.
Facing Facts began as a partnership between four NGOs, with complementary experience in education, advocacy and hate crime monitoring to develop the first 'train the trainer' programme on monitoring hate crimes for CSOs. Moving forward, the programme has expanded its network of trainers and partner organisations, since establishing a holistic, multi-stakeholder approach to hate crime monitoring.
Facing Facts has since moved into a new phase, Facing Facts Online, which combines existing training programs into two online courses on identifying, monitoring and countering hate crime and hate speech. With our new EU-funded project, Facing All the Facts, our organization looks to reach a broader audience, specifically targeting law enforcement and government bodies to achieve institutional change in hate crime perception.
Subscribe to our newsletter
Stay up to date with out latest news