Go back
Mapping the Austrian hate crime response system
In this blog, Facing Facts Network Members Amina El-Gamal, Senior Expert and Coordinator of (Trans-)National Cooperation for ZARA – Civilcourage and Anti-Racism-Work, and R Melichar from the Human Rights Unit at the Ministry of the Interior reflect on their work to map Austria's hate crime response system.
Edited by Joanna Perry
About ZARA – Civilcourage and Anti-Racism-Work
Our aim is to prevent racism, hate crime and hate speech through training, awareness-raising and victim and community support. We are very active in national and transnational projects and are regularly called on to share our knowledge and expertise in international spaces such as the EU High Level Group on Hate Crime and Hate Speech.
Our two counselling centres support people affected by racism and online hate and our training programmes aim to sensitise the public and promote civil courage. Through our campaigns and media work we aim to reach and influence the broader public. We also coordinate the national Network countering hate crime.

About the The Human Rights Department in the Ministry of the Interior of Austria
We have increased our responsibilities substantially over the last 10 years as we are not only the main point of contact for fundamental rights questions from inside and outside the Federal Ministry, but we play a key role in developing human rights standards for Police practices. Further, the department is mainly responsible for human rights training. We coordinate and deliver in-service police training on human rights both online and in-person. Additional initiatives keep on growing over the years, such as fostering diversity, especially by conducting internationally certified seminars, meeting the practical needs of people with disabilities, or awareness raising on hate crime. Here the department has implemented a new flagging system and training strategy and serves as the national partner of ODIHR and the EU since 2016.

How did ZARA get involved in the Facing Facts' systems mapping project?
In 2021 Facing Facts presented its resources at a conference organised by ZARA as part of the Stand Up for Victims Rights project. Since then we use tools such as the "Journey of a hate crime case" and "Victim and outcomes focused framework" in our network meetings and trainings. We find them super useful to explain key concepts! In 2022 ZARA and the Ministry of Interior of Austria became Facing Facts Network Members and we agreed to start planning a project that would map Austria's hate crime victims support system using Facing Facts' systems mapping methods.
The key was to adjust the systems mapping methodology to support Austria's already existing work and activities and its strategic goals. We decided on a specific focus: to create a victim-centred system map that would serve as the basis of a formalised referral system that includes (binding) quality standards for data recording/collecting and data transfer.

What was the timeline of events?
We held our first national system map workshop, in November 2022 in Vienna.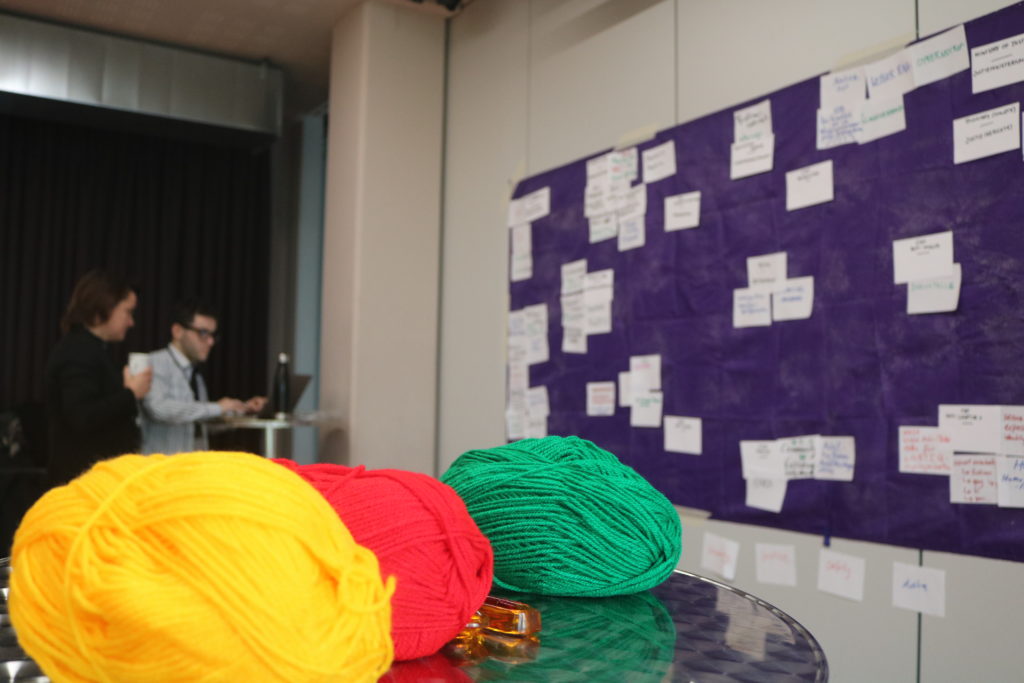 Photo by Annabelle Betz.

The workshop was organised with the Network countering hate crime, which ZARA coordinates. We started to build a map of Austria's 'national hate crime victim support and referral system' and to see how it can be used as a basis to foster shared understandings and strengthen collaboration. More specifically, we had the chance to:
make visible the benefits of being part of a 'system' to support people and communities affected by hate crimes
start to visually map the situation in Austria regarding roles and responsibilities of all stakeholders and the current scope and limits of support for hate crime victims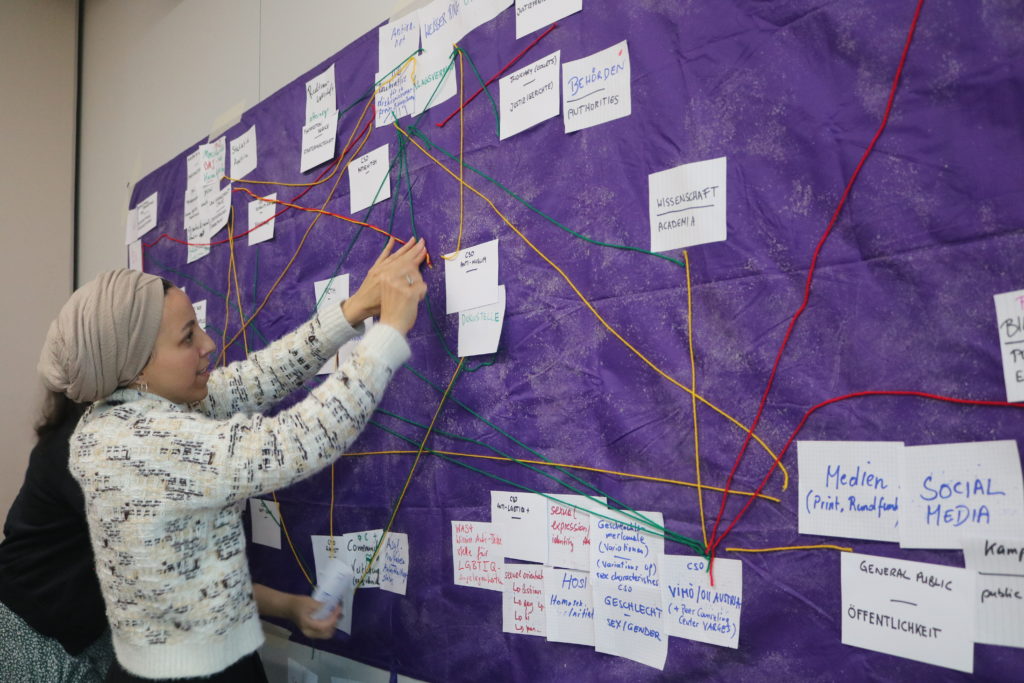 Photo by Annabelle Betz.

Quotes from participants from the November 2022 Workshop:
"I now have better knowledge of stakeholders."
"Having an established way of referrals between NGOs, preferably specific persons responsible for the referral in each NGO was an innovative experience for me."

"Between November and January we continued our desk research and produced a digital systems map which incorporated findings from our desk research."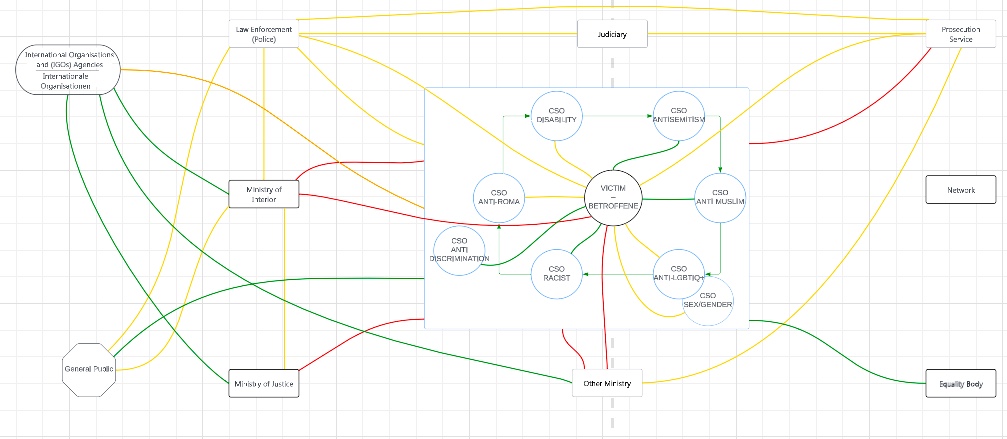 Screenshot of unfinished first draft of the Austrian systems map created on the online tool Lucid.
We organised a second follow up online workshop in February 2023 to present and discuss the digital map and to get feedback from stakeholders. We continued our method of small group work, exchange and discussion in line with our overall aim to foster collaboration and networking.

What did you find useful about the systems mapping experience?
The whole process is based on close collaboration with the Facing Facts team, ZARA and national stakeholders. It was a great opportunity to bring everyone together and have the possibility to network and get to know each other's methods and key community relationships with the aim of establishing a national referral system for hate crime victims. Insights on the work of other victim support organisations, community organisations and public authorities regarding hate crime, were really helpful and useful. All stakeholders including law enforcement authorities may profit from this one-glance comprehensive overview that serves well as an initial and on-going orientation.

What did you find challenging?
ZARA: For us it was challenging in the beginning to identify the right stakeholders, bring them together to collaborate on the system mapping exercise and to get input from all of them throughout the process. Relying on already existing connections within our network helped a lot.
Different understandings regarding the concept and definition of hate crime was also another difficulty we faced in the beginning. To mitigate this we dedicated a session in the first workshop to define a common ground. Another challenge was that it was difficult to include the same stakeholders in both workshops. This meant that not everyone was at the same level of understanding as we presented the details of our findings in the second workshop. This is an ongoing challenge for our work: nearly all members do not have financial support to take part in network meetings outside their work.
Public authorities:
A weakness of the systems map is that because it presents a high level view of the national picture, it cannot fully reflect the differing qualitative degrees of relationships with and among CSOs. As this process aims to create a holistic, comprehensive picture, these aspects should be covered as well as detailed as possible in the systems map itself. Furthermore, the more than 40 international standards were not presented to the group in enough detail. This left too much space for interpretation at times, especially for scoring relationships numerically and by colour. Finally, it remains partly unclear how far the rating among public institutions can be conclusively linked to the victims´ needs for adequate support and eventually, to their expectations of seeing full justice done, since these cannot be guaranteed for various procedural reasons.

How do you see the process supporting your work?
ZARA: As an outcome of our EU project Stand up for victims rights and the cooperation within the Network countering hate crime, we saw a necessity to have a functioning referral system in Austria. This is not possible without having an overview of specialised and general support services and their work. This is why the outcome of this process will be of great help to build on our further collaborations and implementation efforts. The networking taking place throughout the process helped us and also other stakeholders to identify an expanded and more diverse set of organisations for victim referrals. The closer collaboration and exchange with public authorities helped CSOs to get insights on the processes and standards that govern their work.
Ministry of the Interior: Public authorities in other national contexts may strongly welcome this useful tool in order to locate more easily the strengths, weaknesses and blind spots of the conceptual, legal and practical national victim support framework. It could serve well as a helpful blueprint for similar regional mapping processes between civil and public stakeholders.

Quotes from participants from the February 2023 Workshop:
"It's good to have an overview to challenge the relationships and to have a motivation to improve them."
"I liked about the online tool that we had all simultaneously access to it and that there is a mobile application for it"
"I liked the participatory approach of the online tool and the various possibilities to have one "system" at a glance."
"I would have needed more time."

What's next?
The report and systems map will be published in the coming weeks and we will continue to move forward!
---