Go back
Beyond the "Big Three": Alternative platforms for online hate speech
03/06/2019
In recent years, most international studies on hate speech online have focused on the three platforms traditionally considered the most influential: Facebook, YouTube and Twitter. However, their predominance as the biggest international social networks is no longer uncontested. Other networks are on the rise and young users especially lose interest in the 'old' platforms.
In April 2019, Instagram had more active accounts globally than Twitter[1] and came fifth in terms of global page impressions[2], after Facebook, Pinterest, Twitter and YouTube. Additionally, recent studies into the social media use of minors and young adults showed that Instagram is more important than Facebook to users younger than 30 in several countries[3]. Since hate groups and extremists move their propaganda to the channels where they can reach their target audience most easily, it is important to take those changes in the social media landscape into consideration.
Facebook, Twitter, YouTube and Instagram are all parties to the Code of Conduct on countering illegal hate speech online, established by the European Commission in 2016[4], agreeing to take stronger and swifter action against hate speech on their platforms. Google+ has also joined the Code of Conduct in 2018. However, as the network was shut down in April 2019, it is no longer included in this analysis.
As hate speech moderation increases on the major social media platforms, hate groups and extremists turn to other networks where community guidelines against hate speech are less strictly enforced. Some of those alternative platforms, like VK.com or Gab.ai, have acquired a broad international audience and are considered 'safe havens' by far-right or right-wing extremist activists. Other platforms have a more local audience or are only relevant in specific countries.
This analysis offers an overview of the most prevalent social media platforms and websites used for disseminating hate speech in the countries of the sCAN project partners. Six partner organisations provided input and contributed with their extensive experience in the field of combatting hate speech online:
ZARA – Zivilcourage und Anti-Rassismus-Arbeit (Austria)
Romea (the Czech Republic)
Licra – International League Against Racism and Antisemitism (France)

jugendschutz.net (Germany)

CESIE (Italy)
University of Ljubljana, Faculty of Social Sciences (UL-FDV) (Slovenia)
Click here to read the full study.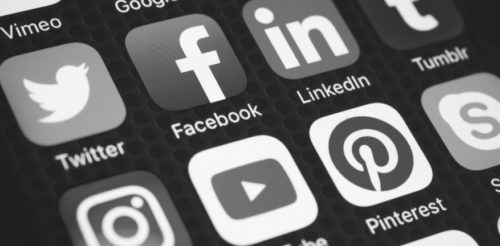 [1] Statista (2019a). Most popular social networks worldwide as of April 2019, ranked by number of active users (in millions). Available at https://www.statista.com/statistics/272014/global-social-networks-ranked-by-number-of-users/ (last accessed 23.05.219).
[2] Statista (2019b). Marktanteile von Social-Media-Seiten nach Seitenabrufen weltweit von Februar 2019 bis April 2019. Available at https://de.statista.com/statistik/daten/studie/241601/umfrage/marktanteile-fuehrender-social-media-seiten-weltweit/ (last accesses 23.05.2019).
[3] See for example Medienpädagogischer Forschungsverbund Südwest (2018). JIM-Studie 2018 – Jugend, Information, Medien. Available at https://www.mpfs.de/studien/jim-studie/2018/ (last accessed 15.05.2019); Diplomeo (2018). Paroles aux jeunes. Available at https://diplomeo.com/actualite-sondage_reseaux_sociaux_jeunes (last accessed 15.05.2019); SaferInternet.at (2019). Jugend-Internet-Monitor 2019. Available at https://www.saferinternet.at/fileadmin/redakteure/Projekt-Seiten/Jugend-Internet-Monitor/Infografik_Jugend-Internet-Monitor_2019.png (last accessed 23.05.2019).
[4] European Commission (2016). Code of Conduct on countering illegal hate speech online. Available at https://ec.europa.eu/newsroom/just/item-detail.cfm?item_id=54300 (last accessed 16.05.2019).
This post originally appeared on the sCAN project website.